Italian contest – Short film
Brief Synopsis:
Franco Vito Gaiezza is a music teacher who has a special relationship with his young students to whom he reveals the secrets of great composers. He spends his free time in the bar in the main square of Ribera, a small town near Agrigento. There, he chats with villagers who have strange visions and when he returns home to play and compose, he begins to feel differently than usual. When his daily life is seriously compromised by strange nightmares, he will start wandering around the streets of a deserted village, with the aim of reaching the conservatory where he teaches, sure to meet his students.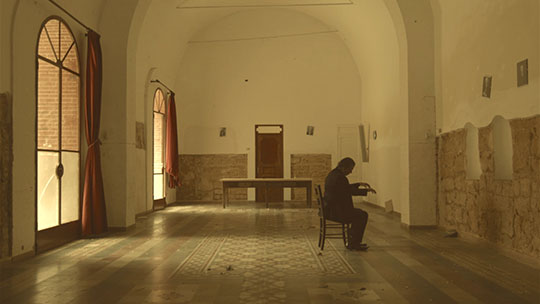 Directed by: Castrense Scaturro
Production: Centro Sperimentale di Cinematografia – Sede Sicilia
Producer: Pierfrancesco Li Donni
Editing: Castrense Scaturro
Cinematography: Rosario Minervini
Running time: 38'
Country: Italy
Year: 2021
Contacts: Castrense Scaturro| castrense.scaturro@gmail.com
Director's note:
The great challenge faced representing maestro Franco Vito Gaiezza in Fantasia was to tell his story in three different times and in three different ways of approaching filmmaking: the present, through the observational documentary; the future, asking him to interpret himself while looking for his students; the past, by recreating, through fragments of family films, his youth, the same period his students are experiencing.