Italian contest – Full-length film
Brief Synopsis:
A train passes slowly across the heart of Bosnia and Herzegovina: Sarajevo, Tuzla, Srebrenica, Konjic, Mostar. Women, religion, war, violence, and music are thrown on the screen like dice on a chessboard, or as Russian Roulette. Up for grabs is truth or lie, life or death. The camera explores what is behind the rediscovered order of things. How far can our gaze reach to know? A dance school, the hallways of the Islamic Pedagogy Faculty, a rock music classroom, the Medjugorjie hill… from all these places the characters carry out their research. How can we hold the executioners or the victims to account for that horror? War does not have a woman face. Nothing happened in Bosnia and Herzegovina. Nothing.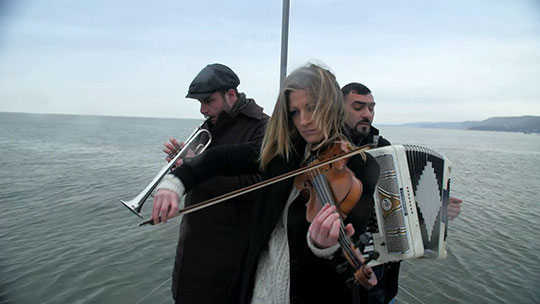 Directed by: Massimo D'orzi
Production: Loups Garoux Produzioni, Il Gigante, Istituto Luce Cinecittà
Producer: Massimo D'orzi
Editing: Paola Traverso
Cinematography: Armin Karalic
Running time: 70'
Country: Italy
Year: 2021
Contacts: Alessio Massatani | a.massatani@cinecittaluce.it
Director's note:
We go to Bosnia to lose our (mental) borders. To acquire new ones. You enter it after asking for permission, taking care not to make anyone nervous and suddenly you end up on a carousel that, after repeated laps, takes you back to the start. Bosnia is a frontier point. Which frontier? An access point for Muslims in Europe? Or for Catholics who, driven to the East, would like to creep into lands historically ruled by the Eastern Church? It is a frontier of a latent Europe, a border of East and West, of schisms and heresies. Or a no-man's land, belonging to the Bosnians. That is all. Left alone, and sometimes proud of it. With Bosnia Express I fooled myself that I could have the admission ticket to document the raids, the widespread atrocities, the complicities perpetrated at the various levels. However, I surrendered, raising my hands in front of the women's faces who bewitched me and led me elsewhere, telling me another truth. In the documentary, I initially want to ban the speech, but it came back to help me with its questions. The documentary takes more the form of an intimate diary, alternating representation, story and metaphor, tragedy, irony and poetry, shown sometimes unpaired, sometimes miraculously together. This is a film full of questions. The author directs them to the audience, in order to pick up the threads of history, and overcome the flatteries of the clichés, risking losing himself endlessly inside the Balkan carousel.