Brief Synopsis:
UK, 2018. James Lake, 44, makes large sculptures using small pieces of cardboard. At the age of 17 his right leg was amputated: locked in his bedroom, unable to move, he discovered in that light and easy to find material the ideal way to communicate and tell his story.
Today his sculptures, made with a technique unique in the world, continue to speak of human fragility. The film follows James on his journey from Devon to the International Paper Biennial in Lucca, where he was invited to create a monumental cardboard sculpture, the largest and most demanding of his career.
Paperman is a universal parable about overcoming one's limits – physical and psychological – and the value of growth and change.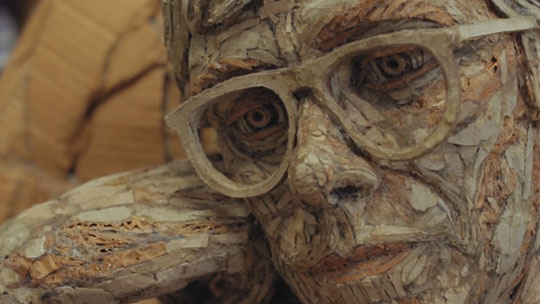 Directed by: Domenico Zazzara
Production: 9Muse / Metropolis Produzioni
Producer: Emiliano Galigani e Federica Moretti
Editing: Sara Zaccaria
Cinematography: Alessandro Casalini
Running time: 71'
Country: Italy
Year: 2020
Contacts: Domenico Zazzara | domenico.zazzara@gmail.com – Metropolis Produzioni │ info@metro-polis.it
Director's note:
To talk about James Lake without talking about disability would be impossible and unfair. But Paperman is above all the story of an artist and his works, and the exciting artistic challenge he faced. The encounter between two worlds – his secluded and tranquil Devon and the International Biennial – is the centerof the story, in narrative and stylistic terms. But the heart of James' human and artistic story – and what makes it a universal story – is the reflection on overcoming one's limits, on the need to grow and change.
Domenico Zazzara