Brief Synopsis:
Through images of the demonstrations and audio interviews of the participants, Hong Kong, Ga Yau tells the story of a
popular protest, the attempt to resist the growing influence of the Chinese Communist Party into Hong Kongers' daily life.
The movement, triggered by a proposed law that would have allowed the extraditions to mainland China of Hong Kong citizens, soon morphed into a larger revolt against China's control over the semi-autonomous city.
The population of the former British colony is struggling with accepting China's rule of law, which comes with reduced freedoms and civil rights.
Into the frameset of the harshest economic and geopolitical confrontation between USA and China, rallies and marches calling for democratic freedoms and independent inquiry into the police behavior, became the expression of a discontent, likely to reverberate for a long time.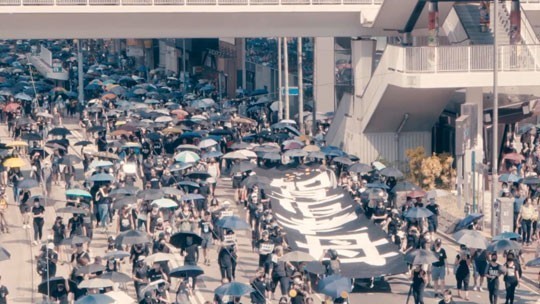 Directed by: Marco Di Noia
Production: Marco Di Noia
Producer: Marco Di Noia
Editing: Marco Di Noia
Cinematography: Marco Di Noia
Running time: 41'
Country: Italy, Germany
Year: 2020
Contacts: Marco Di Noia │ info@marcodinoia.com
Director's note:
Hong Kong, Ga Yau is part of a documentary project about contemporary China, which started in 2012 with a trip to the western province of Xinjiang. A photo and video research, meant to decrypt the landscape, the social structure and the geopolitics of a country which has become in a few decades a global power and a protagonist of our time.
Marco Di Noia