Brief Synopsis:
On the border between Italy and France, migrants fleeing war, political persecution and poverty risk their lives on dangerous mountain trails. The people of the Roya Valley, who witness the suffering of the migrants, provide them with shelter, food and legal advice. Since the transport or reception of undocumented migrants is a criminal offence in France, the population soon found itself on the wrong side of the law. "The Valley" focuses on the personal stories of ordinary women and men who struggle to maintain a sense of morality among human beings and begin to reshape national laws by applying the instrument of civil disobedience.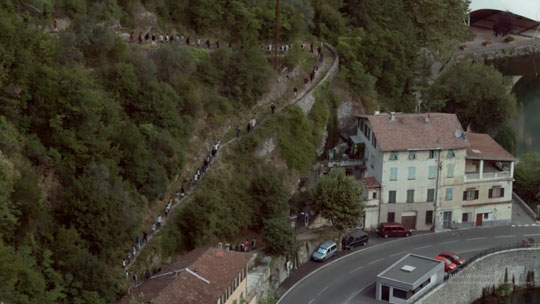 Directed by: Nuno Escudeiro
Production: Andreas Pichler, Luc Martin-Gousset, Valerio B. Moser
Coproduction: Miramonte Film e Point du Jour con Public Sénat, Arte G.e.i.e.
Editing: Beatrice Segolini
Cinematography: Nikolaus von Schlebrügge
Running time: 75'
Country: Italy and France
Year: 2019
Contacts: Greta Mentzel │ mentzel@miramontefilm.com
Director's note:
Perhaps, through Roya's events, we can understand the forms of democratic participation in today's Europe. Here, in fact, we can find a symbolic action that contradicts the apolitical and/or authoritarian tendencies of the early 21st century. But above all at Roya we can learn something about the inner strength that drives us to act, to do what we think is right – regardless of the danger, risk and personal suffering that may result.