Brief Synopsis:
A powerful and anonymous man has developed an unusual hobby. He buys century-old trees, some as tall as 15-story buildings, from communities along the Georgian coast and has them excavated to collect them for his private garden. In order to transplant trees of such dimensions, the landscape surrounding them is ripped apart and the people living around them are forced to adapt to the disruption. As the film follows this process, it portrays the needs and values of today's Georgian society and reflects on the theme of forced migration, where "uprooting" is more than a metaphor.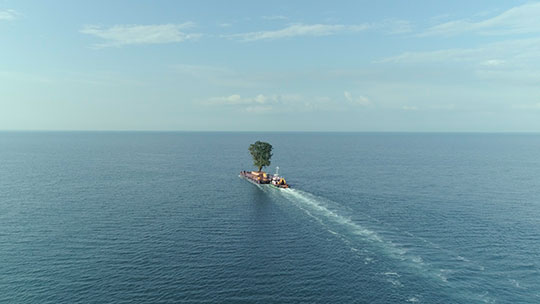 Directed by: Salomé Jashi
Production: Mira Films – Corso Films – Sakdoc Films
Producer: Vadim Jendreyko, Erik Winker, Martin Roelly, Salomé Jashi
Editing: Chris Wright
Cinematography: Goga Devdariani, Salomé Jashi
Running time: 92'
Country: Switzerland, Germany, Georgia
Year: 2021
Contacts: Jasmina Vignjevic | admin@syndicado.com
Director's note:
To me, the film does not have a one-dimensional line as to what it is about. The material spoke of many different aspects of life, which found symbolic expressions in the film, such as the idea of manhood, or forced migration, or uprooting, which is not just a physical process. I also relate the theme of uprooting to my country, where values and a sense of stability is constantly floating. I see the film as an evocative journey into a surreal world, which paradoxically is also fact-based.