'Ndrangheta Soldato Padrino Santa Vangelo
Brief Synopsis:
We are in Aspromonte, 1700 m above sea level on the ridge that divides the Ionian from the Tyrrhenian Sea, where the agricultural and pastoral society parcelled out in tiny villages, some reduced to a few hundred inhabitants, is this region's daughter and guardian.
Three men tell how their life was marked by the 'Ndrangheta. Oligarchic system made up of rules and prescriptions, of lives marked at birth, victims still before torturers, a life of rituals of affiliation and assignment of duties, governed by the omertà that becomes a sacred bond. Grades, skills and impenetrable levels constitute its hierarchy. The man who becomes member of the Family acts with the belief to do evil and to be in good but the Honorable Society gives nothing to no one.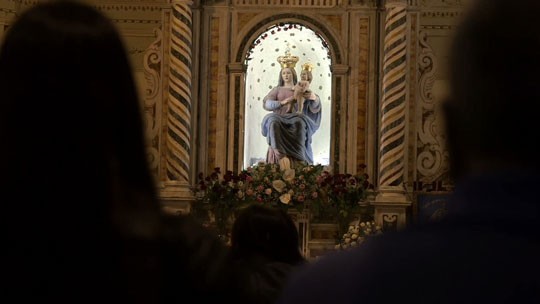 Directed by: Claudio Camarca
Production: Clipper Media, Rai Cinema
Editing: Luca Tommasini
Cinematography: Antonello Sarao
Running time: 68'
Country: Italy
Year: 2020
Contacts: Barbara Ferri / Clipper Media │ clippermedia@gmail.com
Director's note:
I was in Calabria to look for locations to shoot an advertisement. In a field a man comes forward surrounded by a hundred goats. He is a shepherd and offers to accompany me. With him I discovered the Aspromonte, this hump perched in itself gathered in indistricable forests, described in thousands of reports and judicial investigations as the place of kidnapping, the nest of that consortium that over the years has towered over world crime under the name of 'Ndrangheta. A sort of black fairy tale was born.
Claudio Camarca