A class story. Water, is taught by thirst
Brief Synopsis:
Lopez, a retired professor, finds in an old class newspaper "L'acqua, l'insegna la sete", a poem by Emily Dickinson that in a few verses reveals how life teaches us the value of things.
On the wave of that poem and his memories, Professor Lopez feels the need to know what is left of those years spent together; so he goes in search of his pupils, who today are "old" thirty years old.
In these years, not everything has gone right. Little by little, an intimate portrait of destiny takes shape: navigating between the past and the present, between those pupils who are undisciplined and their adult lives, one draws the imprint of the time spent together, and the history of a class among many, which sometimes seems to follow verses of a poem.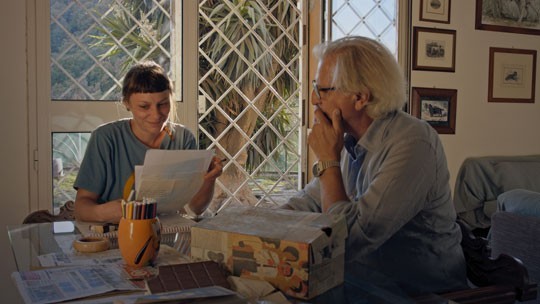 Directed by: Valerio Jalongo
Production: Aura Film, RSI Radiotelevisione Svizzera, Ameuropa International with RAI Cinema
Producer: Enzo Porcelli, Silvana Bezzola Rigolini
Editing: Mirco Garrone, Lizi Gelber
Cinematography: Massimo Franchi
Running time: 76'
Country: Italy
Year: 2020
Contacts: Aura Film | aurafilmch@gmail.com – Ameuropa International │ mail@ameuropa.it
Director's note:
By making this film I understood things that were not clear to me as a teacher: sometimes even the best teachers are involved in promises that the school cannot keep. Year after year, kids' faces, names, ways of dressing changed, but everything was repeating itself and the most touching thing was discovering that nobody blamed the school for their own failure. At that time we didn't imagine that the world was preparing a precarious future for those kids, full of backward steps even in the rights that we considered acquired forever. It takes time to understand and get to the essence of things.
Valerio Jalongo