5th International Documentary Festival Visioni dal Mondo, Immagini dalla Realtà italian contest "Storie dal Mondo Contemporaneo"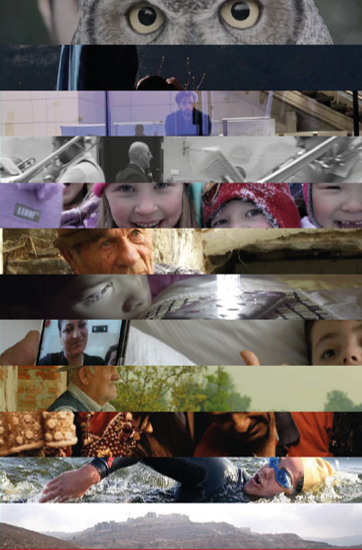 The core of the 5th International Festival of Documentary Visioni dal Mondo, Immagini dalla Realtà, "Stories of the Contemporary World" is the contest aimed at independent Italian documentary film, which will see the screening of 12 titles – feature films, medium and short films – in absolute premiere:
Baladi'-This is my village by Cristiano Regina; I am Mariam Binladen by Vito Robbiani; Il principe delle pezze by Alessandro di Ronza; Il tempo lungo by Andrea Canepari; Ma quando arriva la mamma? by Stefano Ferrari; Marisol by Camilla Iannetti; Minör by Matteo Bontempi, Giacomo Mantovani, Andrea Panni, Pietro Repisti; No Kids For Me Thank You! by Linda Nyman; Processi (Perturbazione Lucifero) by Adriana Ferrarese; Quando non puoi tornare indietro by Leonardo Cinieri Lombroso, Res Creata by Alessandro Cattaneo; The Valley by Nuno Escudeiro.
Baladi'-This is my village – the Palestinian village of Wadi Fukin is located in the West Bank west of Bethlehem. In 1948 the Israeli army destroyed it and forced the residents to move. In 1972, residents were allowed to return and the legend has it that the village was built in just one night. Today, the inhabitants depend almost entirely on agriculture, but the village could disappear again, at any time.
I am Mariam Binladen – crossing the Strait of Dover is a legend for swimmers. Mariam heard about this discipline when she was 11 and now, 20 years later, it's become her own dream. Mariam has a difficult last name: Bin Laden. But a black sheep shouldn't stain the honour of an important family for the Saudi Arabia.
Il principe delle pezze –Catello is a "pezzaro", a small second-hand clothes retailer who dreams of becoming a costume designer. These "pieces" leave every day from his warehouse in Ercolano and arrive in the most prestigious tailors in the world to dress the best actors of the cinema. Here we will discover how much a "pezzaro" and an Oscar winner for costume can share, if the same passion for the dress.
Il tempo lungo – in the Corte delle Piacentine Demesio Lusardi, "paisano" understands that the time has come to see old friends. Forty years have passed since he acted with them in "Novecento" and after that experience, the most beautiful of his life, he returned to work the land. His research crosses that of three young boys who, through the story of Demesius, rediscover the values of their land.
Ma quando arriva la mamma? – Ahmad is a child forced into a wheelchair because he was born with spina bifida. Born in Syria in the city of Afrin, four years ago his daddy put him on his shoulders to escape the war with his whole family which soon had to split up. The father, Ahmad and his brother came first to Switzerland and then to Germany. A group of mothers from Ticino region have not forgotten them and fights to give an answer to the question that the child asks himself.
Marisol – in Capo district in Palermo, the catholic worship of Mother of Mercy takes place since 1600. In this context, an unlawful car park attendant is Marisol's father, living with his children in a slum. Marisol waits anxiously for the day of her first communion and through her relationship with Mother of Mercy she makes up a fantasy world.

Minör – some of the last Italian miners in Frontale (Sondrio, North Italy) get us involved in a powerful narration of their work experience which, going through the memory of their lives spent underground, finally emerges to the surface with the discovery of a strong personal identity and an unstoppable sense of collective belonging. Years have passed and in Frontale the pride of being a miner still survives.

No Kids For Me Thank You! – childfree, not childless. That is how Linda, a young filmmaker, sees herself and her future. For her it has been clear since her early teens that she won't become a mother, but it is first now that she "comes out from the closet", travels back to Finland and explains this to her friends and family. But why is it still such a tabu, especially for a woman, to not dream of a family with kids?
Processi (Perturbazione Lucifero) – August. Corigliano Calabro. Calabria. While the fishermen celebrate the Madonna della Neve, Italy suffocates under an anomalous heat wave called Lucifer. The daily work is mixed with the conduct of the procession, comparing an ancestral work as the beliefs and rituals that accompanied it. Here Nature takes over, gives and takes away at will, leaving.
Quando non puoi tornare indietro – among the passengers at Fiumicino airport, there's Obaida, a bright engineering student who miraculously arrives in Rome thanks to a scholarship. He used to dream of becoming a singer but the war changed his priorities. When everything is lost, starting over seems impossible. But life never ceases to surprise Obaida: He will sing at "The Voice", he will graduate with honors and his path will cross other stories.
Res Creata – Winner of the "Visioni Incontra Miglior Progetto Documentario" 2018 award – a formerly songwriter, Giovanni Lindo Ferretti, retreating to the warmth of the stable. A foggy vineyard resonating with the quiet wingbeat of a falcon followed by his young human friend. Through these and other stories the film will explore the ancient and conflicting relationship between the human being and the animal. A unique journey amongst unequalled atmospheres, discovering the value of this fascinating coexistence.
The Valley – on the border between Italy and France, migrants fleeing war risk their lives on dangerous mountain trails. The people of the Roya Valley provide them with shelter, food and legal advice. Since the transport or reception of undocumented migrants is a criminal offence in France, the population finds itself on the wrong side of the law. "The Valley" focuses on the personal stories of ordinary people who struggle to maintain a sense of morality among human beings and begin to reshape national laws by applying
The Official Jury – composed of Wilma Labate, director and screenwriter, Jacopo Quadri, editor, director and producer, and Steve Della Casa, film critic and festival director – will award the 5,000 euro Visioni dal Mondo Award to the winner.
The Student Jury – made up of selected students from the most representative Faculties and Schools of Cinema in Milan – will award the Visioni dal Mondo – Student Jury Award of 2500 euros.