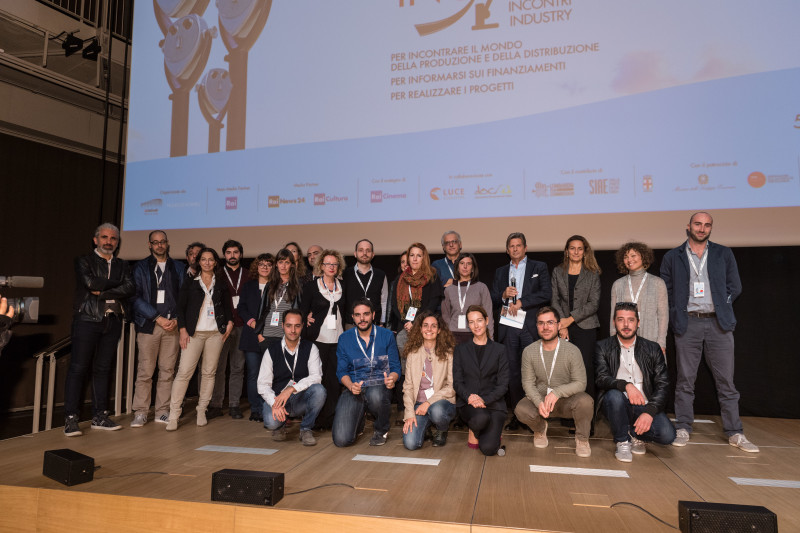 VISIONI INCONTRA – 2nd EDITION RULES, UniCredit Pavilion, Milan OCTOBER 5-6, 2017
The "Visioni dal Mondo, Immagini dalla Realtà" (A Window on the World, Images from Reality) 3rd International Documentary Festival presents the second edition of  "VISIONI INCONTRA", two days dedicated to the "Industry" with presentation of Italian documentary film projects still "work in progress".
The aim of "VISIONI INCONTRA" is to present a few work in progress of "current affair documentaries" by italian directors to a professional audience of broadcasters commissioning editors, distributors, tv buyers, buyers, independent producers, sales agents, directors of italian and international Festivals.
Selected Projects will be presented during the Industry days of the festival, in a pitching of up to 20-minute session that will comprehend a presentation by the author and / or producer, the projection of processing materials (not less than 5 minutes) and a final Q&A with the professional audience present.
Furthermore Visioni Incontra staff will organize and manage one to one meetings between the producers/directors of the work in progress pitched and the industry professionals directly invited by the Festival directors to attend the pitching sessions.
Mandatory Requirements
The competition is open to Italian independent productions: productions in which at least 50% or more of the film's funding comes from sources in Italy, where the director is Italian, and at least most of the filming took place on Italian territory.
Projects must be submitted by independent production (totally funded projects from broadcasts will not be admitted) and already funded for at least 40 % of the estimated budget.
Projects will be selected by a committee of experts of the Festival.
Applications for admissions, projects, materials should be sent within the 30th of june 2017 (compulsory). The selected projects will be announced within the 30th of august 2017.
"VISIONI INCONTRA" will award for the best project a prize of € 2,500 nominated by a jury made ​​up of national experts. The award is intended as a contribution to be used for post -production and finalization of the film,  and will be assigned to the production company of the film.
When the awarded work in progress becomes a completed Documentary, the Documentary should be premiered at the next "Visioni dal Mondo, Immagini dalla Realtà" (A Window on the World, Images from Reality) International Documentary Festival.
All pitched projects should bring in the credits the 'Visioni Incontra Selection' logo. The award winning project should also add to its credits the 'Visioni incontra Award' logo. Both logo will be provided by the Festival responsibles.