"Il documentario e l'animazione: oltre i confini del cinema del reale"
Saturday, October 7th, h. 11:00 am – Sala Greenhouse, UniCredit Pavilion
More info Events Calendar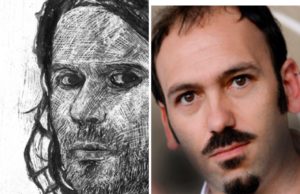 A talk with Simone Massi and Stefano Savona about their project La strada dei Samouni organized by Visioni dal Mondo, Immagini dalla Realtà and Milano Film Festival in collaboration with Civica Scuola di Cinema Luchino Visconti.
 THE PROJECT
January 2009: One of the greatest Italian documentaries, Stefano Savona, is in Gaza to report , live,  the tragic and bloody invasion of Palestinian territory by the Israeli army.
From this experience, a film will be born, Piombo fuso, appreciated and awarded in many international festivals.
And Savona decides to go further with such experience during which he met a family of peaceful peasants, the Samouni, of whom 29 in January – and after resisting "indefinite" sixty years of wars in the territories of the strip – were massacred by an Israeli army intervention unit. It's worth telling their story: a documentary, of course, based on the survivors' daily life. But in the moment when he realizes the importance of memories and testimonies of such mass murder, as well as the dreams related to an old time of peace, the question arises: How to narrate all this?
The solution is found when the filmmaker meets an artist, the great poet of animation's film and
interpreter of the artistic resistance, Simone Massi (among his works many of the recent Venice Film Festival dreamy "themes"), and discovers his work. Simone  can draw reality in a very realistic and transfiguring way. His technique – even in today's digital and 3d  world- has deliberatly remained a  classic one, 'passo uno'.
The collaboration between the two authors totally transforms the project that they understand will take many years of preparation (the project will have to contain at least 45 minutes of animated sequences) but it immediately attracts a fair European and italian interest thanks to Rai Cinema, to CNC and to Co-production Market of Berlinale in 2015, even with a numerous  team of young 3D animators involved.
Today the Samouni Road is at its final phase, expected to be one of the 2018 movie season's event.
Stefano Savona and Simone Massi will bring many, fascinating processing materials to our festival Visioni dal Mondo and will make us learn the complexities of dealing at the same time with two different narrating techniques.
How can the real shooting succesfull live togheter with the animation.
The panel on The Samouni Road will be more than a simple case study, a privileged opportunity to learn the new directions of the feature documentary and the fertiles contaminations of such production's technique.